Overview
In addition to commercial support options, UniMRCP offers custom development services to compliment existing functionality and provide added support to the customers.
Benefits
CUSTOM DEVELOPMENT BENEFITS
Dependable quality
Decreased time to market
Prioritize processing
Reliable completion time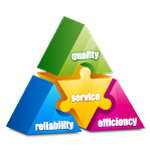 Options
Speech Application Development
This option offers development of speech applications by utilizing the UniMRCP client library.
SPEECH Plugin Development
This option offers integration of ASR, TTS, and SVI engines into the UniMRCP server as run-time loadable libraries.
Feature Request
This option offers implementation of features which might currently be unavailable or may not satisfy your specific requirements.
Terms and Conditions
The respective service level agreement is placed between Universal Speech Solutions LLC, the legal entity behind the UniMRCP services, and the client. The client is provided with the corresponding invoices. Typically, a 50% upfront payment is required before beginning the development. The remaining balance is due upon successful project completion.
Contact
For further details, please contact the founder of the UniMRCP project.
Arsen Chaloyan
This email address is being protected from spambots. You need JavaScript enabled to view it.
This email address is being protected from spambots. You need JavaScript enabled to view it.